Sea Kayak Abel Tasman National Park
Nau mai, Haere mai
Welcome to R&R Kayaks
Rets and Ro welcome you to the breath taking Abel Tasman National Park – the place we call home.  We are a small family owned sea kayak company with many years of industry experience in kayak tours and rentals, and extensive local knowledge (we are born and bred locals).
The Abel Tasman National Park is a very special place to our family (whānau) and we are excited to share its history, stories and natural beauty with you.
"We are a small company with a big heart"
Our

Booking Assurance

policy assures that if you make any booking with us and you are unable to travel due to government travel restrictions, COVID-19 testing or self isolation, you have the flexibility to change your booking date. If this does not suit, a full refund will be provided.
KO WAI TATOU? - WHO ARE WE?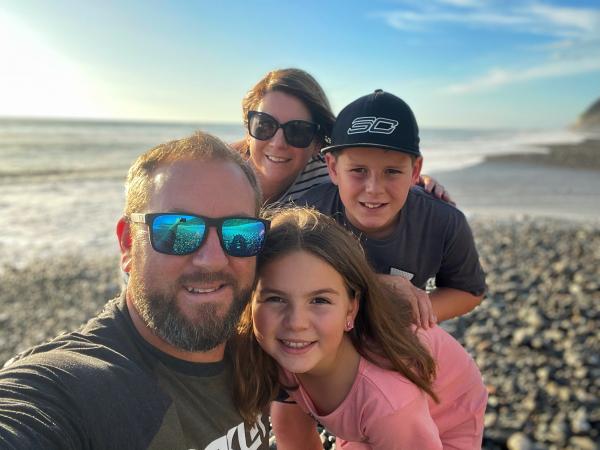 We are a young, local family with two children, Jett and Monroe. We have both grown up in the area and have been visiting the National Park since childhood days.
We love to live and work in such an incredible place and it really is our privilege to show you one of New Zealand's gems.
Lauretta (Rets) grew up in the Golden Bay area, the northern end of the National Park. She has been a primary school teacher since 2003 and is Deputy Principal at our children's school in Motueka. Rets works full time for the school year and then helps out in the office in the summer season. She sorts the kitchen, does our accounts, payroll and business admin.
Rohan (Ro) grew up in the Motueka area, the southern end of the National Park. He has a real passion for the outdoors and has been working in the sea kayak industry in the Abel Tasman from 2002, ever since he left Motueka High School. Rohan is also a member of the SKOANZ (Sea Kayak Operators Association of New Zealand) and is a sea kayak assessor for NZOIA (New Zealand Outdoors Instructors Association). He has been a big part of the introduction and development of regulations/qualifications in the sea kayak industry and is on the Technical Committees for NZOIA and Skills Active for writing and evaluating sea kayak qualifications.
Between the two of us we know this place literally like the back of our hands. So let us take the stress out of life and take you on a relaxing break in the Abel Tasman National Park.
We look forward to seeing you soon!
Rets, Ro, Jett & Monroe
ABEL TASMAN - NEVER BEEN BETTER
The national park is over full of bird life thanks to the amazing work by the Abel Tasman Birdsong Trust and Project Janszoon, the seal colonies are growing day by day as a result of the marine reserve and the great work DOC has been doing to protect the seals, penguins and dolphins.
Do you remember or have those life long memories of going on a summer holiday with your family or friends when you were growing up? Now is the best time to come and visit the Abel Tasman and make new life long memories with your friends, work colleagues and family.
#BackYourBackyard  #SupportLocal  #SupportNZMade  #SupportSmallBusiness  #LocallyOwned  #PureNewZealand